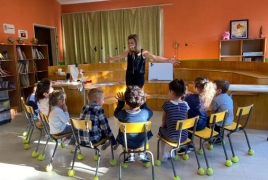 September 9, 2020 - 19:14 AMT
PanARMENIAN.Net - The French-Armenian Kevork Arabian school in Valence welcomed its first students for a "historic start" on Tuesday, September 8, the school said on Facebook.
The new institution consists of two kindergarten classes where the first eight students of the school have already started their education.
According to the school administration, more classes will open for each year of primary education until September 2026.
Amid the health crisis linked to the Covid-19 pandemic, which had caused a delay in the construction of the building, the school's board of directors has decided to temporarily relocate to the Georges Markarian artistic center to welcome the students in good conditions.
After the Genocide of 1915, many Armenians took refuge in France in the 1920s, with the first several hundred Armenians being recruited by Valence employers in 1923. As of 1997, 7,500 people in Valence belonged to the Armenian community, turning it into one of the largest in France, the Armenian National Union also based in in the commune.
In the commune's Armenian quarter, a street is named after Armenia and a square is named after French-Armenian poet and activist Missak Manouchian.