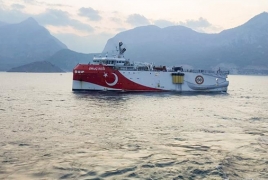 September 14, 2020 - 14:02 AMT
PanARMENIAN.Net - A Turkish seismic survey vessel, whose research in a disputed area of the eastern Mediterranean has been at the heart of a weeks-long standoff between Ankara and Athens, has returned to waters near southern Turkey - a move Greece said was a positive first step in easing tensions over offshore natural resources, Al Jazeera reports.
But Turkish Defence Minister Hulusi Akar played down the significance of the move, saying the ship had returned to shore as part of scheduled plans and insisted it did not mean Ankara was "giving up our rights there".
"There will be planned movements backwards and forwards," Akar told state news agency Anadolu in Antalya, southern Turkey, on Sunday.
Neighbours and NATO allies Turkey and Greece have overlapping claims to continental shelves and rights to potential energy resources in the eastern Mediterranean. Tensions flared last month after Ankara sent Oruc Reis to map out possible oil and gas drilling prospects in waters claimed by Greece, Cyprus and Turkey.
Turkey's navy had issued an advisory earlier this month saying the vessel would continue operations in the area until September 12. Foreign Minister Mevlut Cavusoglu had said it would continue exploratory operations for longer but no extension to the advisory was issued as of noon.