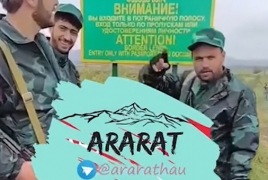 October 12, 2020 - 12:49 AMT
PanARMENIAN.Net - New evidence has emerged to prove the participation of terrorist mercenaries in Nagorno-Karabakh hostilities on the side of Azerbaijan.
The Armenian United Infocenter has published footage of pro-Turkish mercenaries, who identify themselves Gray Wolves, and Syrian mercenaries recruited by Azerbaijan, fighting against Artsakh (Nagorno-Karabakh).
The Armenian National Security Service earlier published information about the involvement of Turkey and terrorists in renewed hostilities unleashed by Azerbaijan against Karabakh, as well as the panic spreading among the mercenaries.
In a video published on October 3, the NSS unveils excerpts from conversations between the Turks and the terrorists.
Armenia was the first to report on Turkey's deployment of thousands of Syrian fighters to Azerbaijan as early as September 28. International media publications followed suit, as did reactions from France, Russia, Syria and Iran.
At least 107 Syrian mercenaries deployed by Turkey in Azerbaijan have been killed in fighting along the Nagorno-Karabakh line of contact, according to the London-based Syrian Observatory for Human Rights.
Azerbaijan, with help from Turkey, launched a large-scale offensive against Karabakh (Artsakh) in the morning of September 27, shelling Armenian positions and civilian settlements with large caliber weapons and rocket systems. Armenia and Karabakh have introduced martial law and total mobilization. The Armenian side has reported deaths and injuries both among the civilian population and the military. International and local journalists too have been injured in Azeri shelling of towns and villages, as well as the iconic Ghazanchetsots Cathedral in Shushi. Before a humanitarian ceasefire could begin on October 10, Azerbaijan launched a new offensive and struck settlements both in Karabakh and Armenia.