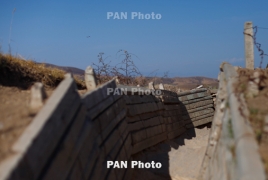 October 15, 2020 - 11:00 AMT
PanARMENIAN.Net - The International Crisis Group is urging the sides to the Nagorno-Karabakh conflict and international actors to stem the mounting human toll amid renewed hostilities in the conflict zone.
The organization maintains that with international borders closed due to Covid-19, if fighting escalates, it will result in many displaced who have nowhere to go.
"Ideally, both sides would return to talks, but even absent that, it is critical that they cease targeting civilians and undertake efforts to prevent and alleviate humanitarian suffering. They must eschew cluster bombs, stop targeting population centres and provide corridors for the evacuation of the wounded and dead and the delivery of humanitarian aid. International actors, including the Organization for Security and Co-operation in Europe (OSCE) Minsk Group, which has overseen negotiations since the end of hostilities in 1994, and its co-chairs France, Russia and the U.S., other capitals worldwide and international organisations should speak in one voice and specifically call for such measures," the Crisis Group says.
"Countries that provide weapons to the parties, including Russia, Turkey, Belarus, Pakistan and Israel, and those through which deliveries transit, including Iran and Georgia, should cease provision and transit, at least when it comes to systems credibly reported to have been used in attacks on civilian targets (Georgia has already stopped weapons transit through its territory)."
"This expanded field activity should include means to monitor and "verify" the Moscow agreement's or any new ceasefire, as the Russian and Armenian foreign ministers called for in a 12 October press conference. One tool might be a version of the investigative mechanism to study incidents that Yerevan, Baku and OSCE Minsk Group co-chair countries agreed to put in place, along with an expansion of the OSCE CIO PR's office, after four days of clashes in 2016. This could give OSCE monitors the unrestricted access they would need to Nagorno-Karabakh and, if expanded, any parts of Azerbaijan and Armenia under fire. In the past, Baku resisted the mechanism, despite having agreed to it on paper," the organization goes on to say.
"Whatever its specific tools, the OSCE should consider making its monitors' and investigative reports public,given the lack of objective, neutral reporting on the conflict and rampant biased information and disinformation.
Azerbaijan, with help from Turkey and mercenaries deployed by Ankara, launched a large-scale offensive against Karabakh (Artsakh) in the morning of September 27, shelling Armenian positions and civilian settlements with large caliber weapons and rocket systems. The Armenian side has reported deaths and injuries both among the civilian population and the military. Foreign and local journalists too have been injured in Azeri shelling of towns and villages. Although a humanitarian ceasefire was supposed to begin on October 10, Azerbaijan has renewed hostilities along the line of contact.
Donations can be made to Hayastan All-Armenian Fund, which has launched a fundraising campaign to support humanitarian efforts in Karabakh.