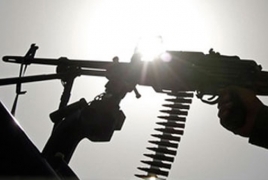 October 15, 2020 - 18:05 AMT
PanARMENIAN.Net - Azerbaijani troops have captured two Armenian prisoners of war and shot them dead, according to a video that contains graphic images and is now spreading on social media.
For ethical reasons, PanARMENIAN.Net will not publish the video that proves once again that Azerbaijan continues to violate international humanitarian law by committing more and more war crimes.
The video depicts the killing of a young soldier and an elderly man with a short gray beard after being taken prisoner by Azeri troops, who are seen grabbing the old man from his jacket and pushing him to the ground.
The Azerbaijani soldiers then wrap both of them in Armenian flags and shoot them from machine guns for a long time.
According to Karabakh Human Rights Defender Artak Beglaryan, the elderly man was a civilian.
Azerbaijan, with help from Turkey and Syrian and Libyan mercenaries deployed by Ankara, started a war against Karabakh (Artsakh) in the morning of September 27. The Armenian side has reported deaths and injuries both among the civilian population and the military. Foreign and local journalists too have been injured in Azeri shelling of towns and villages.