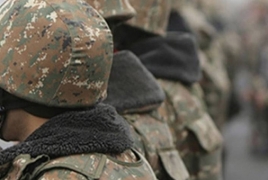 October 19, 2020 - 09:53 AMT
PanARMENIAN.Net - The Human Rights Defender of Armenia was informed on Sunday, October 18 that the Azerbaijani military forces have beheaded an Armenian soldier several days earlier.
The Ombudsman's office has found out that at around 1:00 PM on October 16, a member of the Azerbaijani armed forces called the brother of the Armenian soldier and said that his brother is with them, that they have beheaded him and were going to post his photo on the Internet. Afterwards, several hours later, the brother found the photo on the murdered soldier's social media account.
"The conviction is that these were members of the Azerbaijani army who posted the Armenian solder's photo on his social media page. There were two phone calls with Azerbaijani soldiers who used hate speech with the intention to humiliate the killed Armenian soldier's brother. As the latter informed the Human Rights Defender, the calls were made from the Armenian soldier's phone number," the Human Rights Defender said.
"These are cruel and terroristic methods. The Human Rights Defender of Armenia has recorded other cases of torture and atrocities; these activities are ongoing. All data is duly documented and will be presented to relevant international bodies."
Members of the Azerbaijani military had earlier murdered two Armenian prisoners of war.
Azerbaijan, with help from Turkey and Syrian and Libyan mercenaries deployed by Ankara, started a war against Karabakh (Artsakh) in the morning of September 27. The Armenian side has reported deaths and injuries both among the civilian population and the military. Foreign and local journalists too have been injured in Azeri shelling of towns and villages.