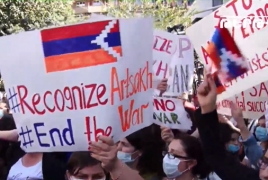 October 19, 2020 - 16:22 AMT
PanARMENIAN.Net - Women from Artsakh (Nagorno-Karabakh) rallied in front of UN office in Yerevan on Monday, October 19, demanding that the representative of the organization in Armenia voice a substantive position on the Nagorno-Karabakh conflict and visit Stepanakert to learn about the situation on the ground.
Several women from among the peaceful demonstrations were invited inside the building and were told that their demands would be presented to UN Armenia representatives at 5:00 pm.
Liana Adamyan, a demonstrator, said that during their short meeting the women demanded that the representative of the international organization learns about the situation on the ground.
The women informed that they are not going anywhere and will instead wait for the meeting in front of UN office.
"We are surrounded by terrorists. They (the Azerbaijani side - Ed.) are deliberately violating UN conventions and provisions of sustainable development," said Siranush Sargsyan, another demonstrator.
In response to a request from Russia, France and U.S., the UN Security Council will discuss the situation of Nagorno Karabakh on Monday. The closed consultation will start at 3:00 pm New York time (11:00 pm Yerevan time).
Azerbaijan, with help from Turkey and Syrian and Libyan mercenaries deployed by Ankara, started a war against Karabakh (Artsakh) in the morning of September 27. The Armenian side has reported deaths and injuries both among the civilian population and the military. Foreign and local journalists too have been injured in Azeri shelling of towns and villages.
Donations can be made to Hayastan All-Armenian Fund, which has launched a fundraising campaign to support humanitarian efforts in Karabakh.