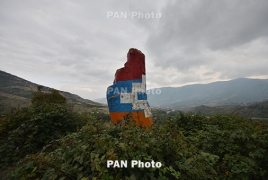 October 21, 2020 - 13:32 AMT
PanARMENIAN.Net - A group of organizations, representing the Armenian-Canadian community, have appealed to Canadian Prime Minister Justin Trudeau to recognize Artsakh (Nagorno-Karabakh) and condemn the joint Azerbaijani-Turkish aggression against Armenians.
In a letter published in Monday, October 19, the organizations reminded that the war unleashed by Azerbaijan is now in its fourth week with no end in sight.
"Most disturbingly, Azerbaijan, emboldened by the international community's silence, continues to deliberately target civilian populations and infrastructure far from the Line of Contact, and particularly in Stepanakert, the densely populated capital of Artsakh," the letter reads.
While welcoming all the decisive steps taken by Ottawa thus far, the Armenian community called upon the government of Canada to:
1. Recognize the independence of the Republic of Artsakh, reaffirming the inalienable rights of the democratic people of Artsakh to self-determination and to live freely, in peace and prosperity;
2. Recognize that Azerbaijan can never lay claim to the population and territory of Artsakh, which it continues to deliberately shell to this day;
3. Properly condemn Azerbaijan's and Turkey's unprovoked aggression and war crimes;
4. Permanently uphold the suspension of arms exports to Turkey;
5. Provide immediate and robust humanitarian aid to the civilian population of Artsakh; and
6. Play a leading role to engage allies and partners and bring lasting peace to the region.
Ottawa has suspended arms exports to Turkey after it was reported that Canadian technology is being used in the Karabakh conflict. In particular, Wescam cameras are mounted on Turkish Bayraktar drones, which have been targeting Armenian positions and civilians from the first moments of the war.
Azerbaijan, with help from Turkey and Syrian and Libyan mercenaries deployed by Ankara, started a war against Karabakh (Artsakh) in the morning of September 27. The Armenian side has reported deaths and injuries both among the civilian population and the military. Foreign and local journalists too have been injured in Azeri shelling of towns and villages.
Donations can be made to Hayastan All-Armenian Fund, which has launched a fundraising campaign to support humanitarian efforts in Karabakh.