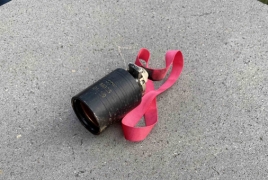 October 23, 2020 - 11:53 AMT
PanARMENIAN.Net - Azerbaijan has repeatedly used widely banned cluster munitions in residential areas in Nagorno-Karabakh, Human Rights Watch said Friday, October 23. During an on-site investigation in Karabakh in October 2020, the organization documented four incidents in which Azerbaijan used cluster munitions.
"The continued use of cluster munitions – particularly in populated areas – shows flagrant disregard for the safety of civilians," said Stephen Goose, arms division director at Human Rights Watch and chair of the Cluster Munition Coalition. "Cluster munitions should never be used by anyone under any circumstances, much less in cities, due to the foreseeable and unacceptable harm to civilians."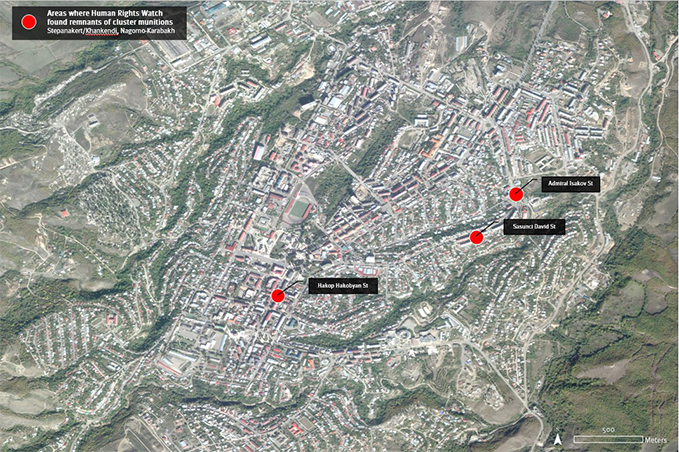 A 69-year-old woman who was in her apartment on the fourth floor of a building next to where HRW observed scores of the distinctive impacts of the M095 submunitions said the building began to shake around 7:15 a.m.: "We saw that they had small pink things that were making them burn, so we ran down to the basement."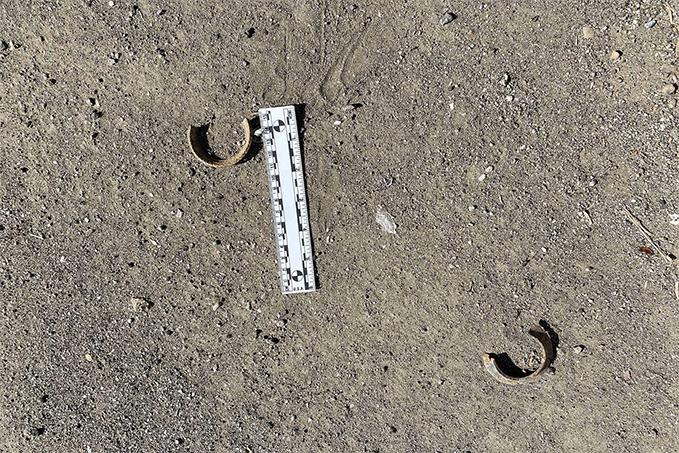 The distinctive, ring-shaped, pre-formed fragments of an Israeli-made M095 submunition near a shop in Stepanakert.
At least one more LAR-160 cluster munition rocket was fired roughly into the same area several hundred meters away. HRW observed the remnants of a LAR-160 rocket, scores of the distinctive impacts of the M095 submunitions, the remnants of the pink-colored stabilization ribbons, and submunition fragments.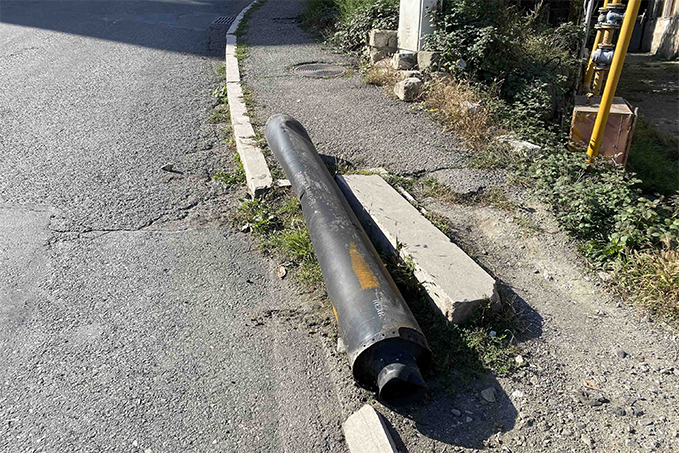 Body of a LAR-160 series Israeli-made rocket in a residential neighborhood in Stepanakert.
HRW also examined 35 photographs and one video shared directly with them from the town of Hadrut of a LAR-160 rocket and its fuse, impacts, and remnants of M095 submunitions that exploded, and dud submunitions that failed to explode in and around a home. According to the metadata of the media, they were recorded on October 3. The organization verified the location of the video and photographs as taken in the town of Hadrut. On October 4, a video was uploaded on YouTube by the Armenian Service of Radio Free Europe/Radio Liberty that showed the same house and remnants.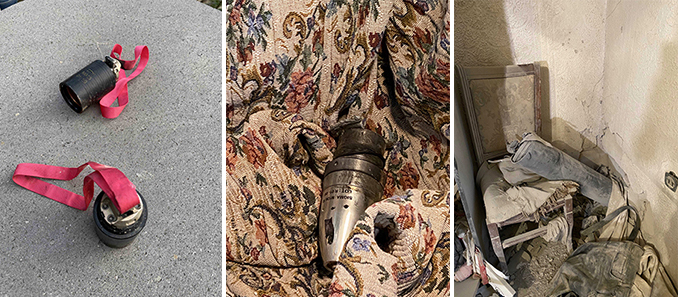 HRW said they made repeated requests to the Azerbaijani government for access to conduct on-site investigations, but access has not yet been granted.
An Amnesty International investigation has also confirmed the use of banned Israel-made M095 DPICM cluster munitions against civilians in Nagorno-Karabakh.
Cluster munitions have been banned because of their widespread indiscriminate effect and long-lasting danger to civilians. Cluster munitions typically explode in the air and send dozens, even hundreds, of small bomblets over an area the size of a football field. Cluster submunitions often fail to explode on initial impact, leaving duds that act like landmines.
Azerbaijan, with help from Turkey and Syrian and Libyan mercenaries deployed by Ankara, started a war against Karabakh (Artsakh) in the morning of September 27. The Armenian side has reported deaths and injuries both among the civilian population and the military. Foreign and local journalists too have been injured in Azeri shelling of towns and villages.