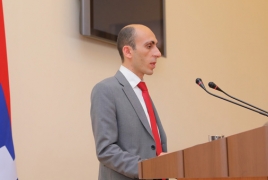 October 25, 2020 - 19:42 AMT
PanARMENIAN.Net - The Nagorno-Karabakh (Artsakh) Human Rights Defender has confirmed the authenticity of a video which shows an Azerbaijani soldier shooting a wounded Armenian serviceman in the head at close range.
"Our analysis shows that it is a real video from recent clashes, where an Azerbaijani soldier is executing an heavily wounded Armenian soldier," Ombudsman Artak Beglaryan said on Twitter on Sunday, October 25.
Beglaryan said because the international community continues being blind, Azerbaijan continues perpetrating more war crimes.
In the video published by Twitter users, the Azerbaijani is seen using a handgun to kill the Armenian soldier, which means he is neither a private nor a conscript as they do not carry pistols. Also, there was objectively no danger on the battlefield as they would be using rifles instead of handguns.
The Azerbaijanis earlier filmed their torture and brutal murder of two Armenian prisoners of war, one of them a civilian.
Azerbaijan, with help from Turkey and Syrian and Libyan mercenaries deployed by Ankara, started a war against Karabakh (Artsakh) in the morning of September 27. The Armenian side has reported deaths and injuries both among the civilian population and the military. Foreign and local journalists too have been injured in Azeri shelling of towns and villages.