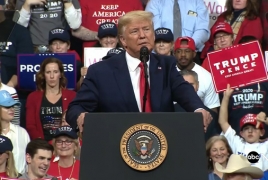 October 25, 2020 - 23:42 AMT
PanARMENIAN.Net - U.S. President Donald Trump gave a shout-out to the Armenians attending a New Hampshire campaign rally on Sunday, October 25, and when talking about Azerbaijan's aggression against the Armenians in Nagorno-Karabakh, the American leader said "we'll get that sorted out", calling the question "an easy one."
"The problems that they (the Armenians - Ed.) have, the deaths, the fighting and everything else, we'll get that sorted out. Go back and tell your people. I call that an easy one. If you know what you are doing, it's easy," Trump said rally goers.
Also Sunday, United States President Donald Trump's National Security Advisor Robert O'Brien said that Armenia has accepted a ceasefire in Nagorno-Karabakh, while Azerbaijan has not.
Talking to "Face the Nation" on CBSNews.com, O'Brien said White House officials, under the president's direction, spent the entire weekend trying to broker peace between Armenia and Azerbaijan.
"And Armenia has accepted a ceasefire. Azerbaijan has not yet. We're pushing them to do so," the official said.
Meanwhile, hostilities continue in Nagorno-Karabakh, with Azerbaijan committing more and more war crimes, triking civilians settlements and infrastructure.
Azerbaijan, with help from Turkey and Syrian and Libyan mercenaries deployed by Ankara, started a war against Karabakh (Artsakh) in the morning of September 27. The Armenian side has reported deaths and injuries both among the civilian population and the military. Foreign and local journalists too have been injured in Azeri shelling of towns and villages.
Donations can be made to Hayastan All-Armenian Fund, which has launched a fundraising campaign to support humanitarian efforts in Karabakh.