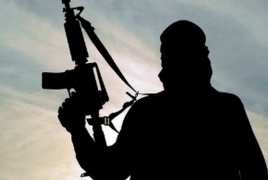 October 31, 2020 - 11:35 AMT
PanARMENIAN.Net - 150 additional Syrian mercenaries, recruited by Mohammed al-Jassim "Abu Amsha", the commander of the Turkish-backed Sultan Sliman Shah Division in Syria, were deployed to Azerbaijan 11 days ago (around October 20), prominent Israeli researcher Elizabeth Tsurkov said on Twitter Friday, October 30. According to her, Syrian minors are also being transferred to the conflict zone.
Tsurkov said the fighters were lied to and told they'll be going to Libya, where the faction is also deployed.
"Only after departing Syria, the fighters learned they'll be taken to Azerbaijan instead, to where some did not wish to deploy due to high casualty rate among Syrians (while fighting in Libya has paused). According to one of the fighters deployed, many in their ranks are minors," Tsurkov said.
"I've documented the recruitment and deployment of child soldiers in the ranks of Turkish-backed factions (including specifically Sultan Sliman Shah) in Syria and Libya. It is disturbing to hear that Syrian minors are also being taken to fight in Azerbaijan."
In the war against Artsakh (Nagorno-Karabakh), the Turkish armed forces are supporting Azerbaijan militarily, also by transferring terrorist mercenaries from Libya and Syria to fight against Karabakh. Armenia was the first to report on Turkey's deployment of thousands of Syrian fighters to Azerbaijan. International media publications followed suit, as did reactions from France, Russia, Iran and Syria. The Nagorno-Karabakh Defense Army has already unveiled footage of the interrogation of one such terrorist captured on the front.
Azerbaijan, with help from Turkey and Syrian and Libyan mercenaries deployed by Ankara, started a war against Karabakh (Artsakh) in the morning of September 27. The Armenian side has reported deaths and injuries both among the civilian population and the military. Foreign and local journalists too have been injured in Azeri shelling of towns and villages.