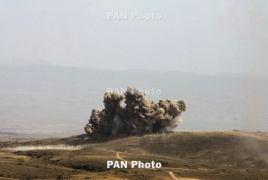 November 3, 2020 - 17:26 AMT
PanARMENIAN.Net - Azerbaijani troops attempted to launch an assault against the Nagorno-Karabakh army three times within one hour but to no avail.
According to information provided by the Defense Army, at 1:30 pm, the Azeri soldiers fired smoke shells to try to recover the bodies of their killed troops from a gorge in the direction of Karvachar. However, the Armenian side's artillery fire made the group turn back, leaving two more bodies.
At 1:40pm, the Azerbaijani forces tried to break through with a group of 30 men in the same direction, but their advance was stopped with high-precision grenade fire from the Artsakh Defense Army units, as a result of which the adversary, suffering losses, retreated to their original positions.
At 2:30pm, the Artsakh servicemen spotted the accumulation of Azeri troops and destroyed four enemy soldiers who were trying to hide.
"The operative situation in Karvachar and other areas is under the control of units of the Artsakh Defense Army," Karabakh authorities said.
Azerbaijan, with help from Turkey and terrorist mercenaries deployed by Ankara, started a war against Karabakh (Artsakh) in the morning of September 27. The Armenian side has reported deaths and injuries both among the civilian population and the military. Foreign and local journalists too have been injured in Azeri shelling of towns and villages.