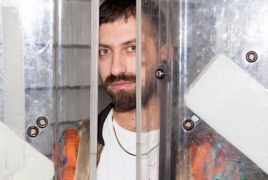 November 4, 2020 - 16:06 AMT
PanARMENIAN.Net - Turkish-born conceptual artist Ahmet Öğüt has accused Yarat Contemporary Art Space in Baku, Azerbaijan of using his work as a propaganda tool, after the institution used the hashtag #KarabakhIsAzerbaijan to caption an Instagram photo to promote his exhibition, Hyperallergic reports.
Öğüt said the institution rejected his requests to take down the exhibition banner and remove the image from its social media. That is why the artist publicly demanded the immediate closure of his exhibition. Though Yarat acquiesced to the artist's demands agreeing to end the exhibition, the institution did not to remove the controversial image from Instagram.
"I am very well aware that art institutions in many countries operate under difficult political circumstances, and some succumb to state pressures as a way of self-preservation," he wrote in a public statement. "Still, regardless of the country, institutions must not endorse state interference and forfeit their primary mission of safeguarding artists' integrity, artworks, and exhibitions."
Öğüt claimed he did not feel comfortable with his work appearing in this context, saying that Yarat's Instagram post and caption "have nothing to do with my independent vision or the content of my exhibition."
Azerbaijan, with help from Turkey and terrorist mercenaries deployed by Ankara, started a war against Karabakh (Artsakh) in the morning of September 27. The Armenian side has reported deaths and injuries both among the civilian population and the military. Foreign and local journalists too have been injured in Azeri shelling of towns and villages.