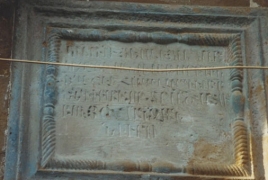 November 23, 2020 - 18:45 AMT
PanARMENIAN.Net - Former Norwegian ambassador to Azerbaijan Steinar Gil has responded to a post by Azerbaijan's First Deputy Minister of Culture Anar Karimov about the restoration of what he described an Albanian church in the country.
Azerbaijan, in particular, "restored" the church by replacing its Armenian inscription with glass art in a settlement called Nij.
According to Gil, the church was built in 1823 and belonged to the Armenian Apostolic Church. It was restored in the beginning of the century with the financial assistance of the Norwegian Humanitarian Enterprise.
"In December 2004, before the restoration was finished, Armenian inscriptions on the tympanum and on tombstones outside the church were erased. At a later stage a cross was placed on the tympanum. The authorities were informed about the erasure of the inscriptions, but nobody has been brought to account for this vandalism," Gil added.
Jon Ramberg, who was Gil's successor as Norway's ambassador to Azerbaijan, said in the comments of Gil's post that he also made several visits to the Udi community and their church in Nij.
"Their representatives readily admitted to the vandalism, and at least some regretted it," he said.
"Neither Steinar nor I have any other interest than trying to establish some truth in these matters. We also share the hope that the time will come when people across the borders in South Caucasus will be able to view their common history as what it is - one of constant interaction, peacefully at times, violent at others."
Azerbaijanis have a record of destroying and vandalizing Armenian heritage, and if an Armenian place of worship is preserved, it is usually because they present it as a "Christian Albanian church"․
The ancient Armenian monastery of Dadivank, the ruins and the archeological site of Tigranakert, Ghazanchetsots Cathedral in Shushi and hundreds of other historic monuments will be left to Azerbaijan, under a statement on the cessation of hostilities in Karabakh. At the moment, Russian peacekeepers have been deployed to the area near Dadivank to ensure the safety of both the church and the perishoners. Azerbaijanis, meanwhile, have already destroyed the domes of Saint John the Baptist Church in the city of Shushi, which has come under Azerbaijan's control as a result of the war.
Armenian Prime Minister Nikol Pashinyan, Russian and Azerbaijani Presidents Vladimir Putin and Ilham Aliyev have signed a statement to end the war in Karabakh after almost 45 days. Karabakh (Artsakh) President Arayik Harutyunyan has said he has agreed to the deal signed by Armenia, Russia and Azerbaijan.