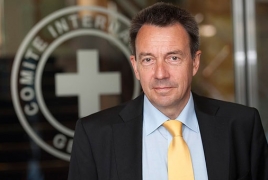 November 24, 2020 - 11:25 AMT
PanARMENIAN.Net - The International Committee of the Red Cross (ICRC) will quadruple its funding for the mission in Nagorno-Karabakh and involve more specialist in the process, the organization's president Peter Maurer said in an interview with RBC.
Maurer said the mission's budget totaled 10 million Swiss francs (around $11 million) before the war, but is expected to grow to 45 million Swiss francs ($49.4 million) in 2021.
According to him, the organization is now planning to send an additional 400-500 workers to the region.
The ICRC President noted that discovering and identifying the bodies of the dead is an urgent task. He said the bodies found so far are in the territories under the sides' control. The most difficult thing, according to Maurer, is finding bodies on the line of contact, because there may be mines. He believes delaying the search for the bodies of the dead could lead to soil contamination. It can also be difficult to identify the bodies because they may start to decompose during the winter.
Armenian Prime Minister Nikol Pashinyan, Russian and Azerbaijani Presidents Vladimir Putin and Ilham Aliyev on November 10 signed a statement to end the war in Karabakh after almost 45 days. Under the deal, the Armenian side is returning all the seven regions surrounding Nagorno-Karabakh, having lost a part of karabakh itself in the war.