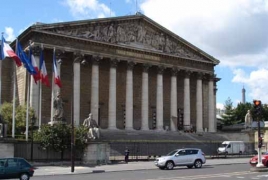 November 25, 2020 - 22:06 AMT
PanARMENIAN.Net - The French Senate voted near unanimously (305-1) on Wednesday, November 25 for a resolution calling for the recognition of Artsakh (Nagorno-Karabakh) by France.
The resolution was drafted by Senators Bruno Retailleau, Patrick Kanner, Hervé Marseille, Éliane Assassi, Guillaume Gontard.
The voting was preceded by nearly two hours of debate.
The resolution condemns the military aggression of Azerbaijan against the people of Karabakh, noting that Azerbaijan was supported by the Turkish authorities, also through the involvement of jihadist mercenaries, and calls for the immediate withdrawal of the Azerbaijani armed forces from territories occupied after 27 September.
The French Senators also call for providing humanitarian aid to the civilian population of Karabakh, conducting an international investigation into Azerbaijan's war crimes and the the use of weapons prohibited by the international law against against the civilian population, as well as urge an appropriate and firm response to Turkey for its role in the conflict.
The resolution emphasizes that negotiations should see the restoration of the borders defined in 1994 as well as the security of the Armenian populations, the right of return of IDPs and the preservation of Armenian cultural and religious heritage.
Armenian Prime Minister Nikol Pashinyan, Russian and Azerbaijani Presidents Vladimir Putin and Ilham Aliyev on November 9 signed a statement to end the war in Karabakh after almost 45 days. Under the deal, the Armenian side is returning all the seven regions surrounding Nagorno-Karabakh, having lost a part of Karabakh itself in hostilities.