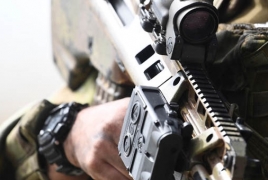 December 4, 2020 - 17:52 AMT
PanARMENIAN.Net - Azerbaijani troops have filmed themselves cutting the throat of an injured Armenian serviceman during recent hostilities in Nagorno-Karabakh (Artsakh).
In footage published by the Telegram channel Kolorit_18, the Armenian soldier is stripped from the waist up, and is only wearing military pants and boots. He is seen wallowing in pain while Azeri troops are holding his hands to prevent him from resisting.
In another video spread by social media users, the Azerbaijani soldiers are seen humiliating, beating and torturing an Armenian man in civilian clothing. They are hitting the man in the head and groin, trying to obtain information about who the person is allegedly hiding.
Azerbaijani soldiers have a record of subjecting the Armenian prisoners of war and captives to physical abuse and humiliation, in actions that have been captured on videos and widely circulated on social media. The videos depict Azerbaijani captors variously slapping, kicking, and prodding Armenian POWs, and compelling them, under obvious duress and with the apparent intent to humiliate, to kiss the Azerbaijani flag. They have been filmed beheading several Armenians, cutting others' ears off, executing them. In most of the videos, the captors' faces are visible, suggesting that they did not fear being held accountable.
Armenian Prime Minister Nikol Pashinyan, Russian and Azerbaijani Presidents Vladimir Putin and Ilham Aliyev on November 9 signed a statement to end the war in Karabakh after almost 45 days. Under the deal, the Armenian side is returning all the seven regions surrounding Nagorno-Karabakh, having lost a part of Karabakh itself in hostilities.