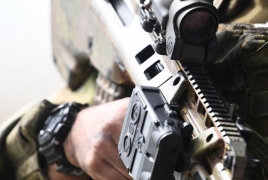 December 8, 2020 - 11:10 AMT
PanARMENIAN.Net - A video showing an Azerbaijani soldier beheading an elderly Armenian civilian has been spreading online since Monday, December 7.
In the video, the old person is heard pleading for his life, asking the Azeri man wearing a military uniform to spare him, but to no avail. Dozens of videos of Azeri troops cutting the throats and ears of Armenians have been spreading online since the final days of the war in Nagorno-Karabakh.
The Azerbaijanis subject Armenian POWs and captives to physical abuse and humiliation. Videos depict Azeri captors variously slapping, kicking, and prodding Armenian POWs, and compelling them, under obvious duress and with the apparent intent to humiliate, to kiss the Azerbaijani flag. In most of the videos, the captors' faces are visible, suggesting that they did not fear being held accountable.