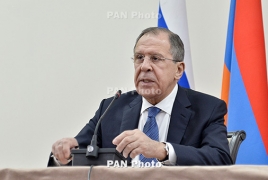 December 29, 2020 - 19:23 AMT
PanARMENIAN.Net - Russia and Turkey agree that the situation in Nagorno-Karabakh should not be used to transfer foreign mercenaries into the region, Russian Foreign Minister Sergei Lavrov said on Tuesday, December 29, following talks with his Turkish counterpart Mevlut Cavusoglu.
"Our shared opinion is that the situation in Nagorno-Karabakh should not be used for attempts to transfer foreign mercenaries into this region. Our positions overlap on that," Lavrov said, according to TASS.
"We welcome Ankara's desire to help the parties to the conflict fulfill their obligations, in particular, under the statement signed by the Presidents of Russia, Azerbaijan and the Prime Minister of Armenia on November 9, as well as within the framework of the Russian-Turkish joint center for monitoring the implementation of the ceasefire."
In the war against Artsakh (Karabakh), Turkey supported Azerbaijan militarily, also by transferring terrorist mercenaries from the Middle East to fight against Karabakh. Armenia was the first to report on Turkey's deployment of thousands of Syrian fighters to Azerbaijan. International media publications followed suit, as did reactions from France, Russia, Iran and Syria. The Nagorno-Karabakh Defense Army has already unveiled footage from the interrogation of two such terrorists captured on the front.