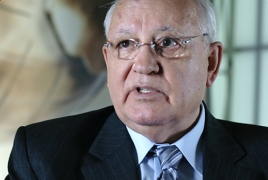 January 11, 2021 - 16:14 AMT
PanARMENIAN.Net - Former USSR President Mikhail Gorbachev hopes that Russia will be able to help in the settlement of the Nagorno-Karabakh conflict. According to him, however, the main role here remains for Armenia and Azerbaijan to find a solution in the interests of both sides, "without winners and losers."
Gorbachev, who led the Soviet Union during the escalation of the conflict in the late 1980s, said the matter is a complex one, old and rooted in the past, RIA Novosti reports.
The former Soviet leader said now that hostilities have ended, it is important to not stop or leave the problem unresolved for decades more.
"I hope Russia will be able to help, but the the parties to the conflict have the key role to play. Armenia and Azerbaijan have undertaken to hold negotiations on a settlement. The solution must be in the interests of both sides, without winners and losers," Gorbachev said.
Armenian Prime Minister Nikol Pashinyan and the Presidents of Russia and Azerbaijan Vladimir Putin and Ilham Aliyev are meeting in Moscow on January 11. According to Pashinyan's press secretary Mane Gevorgyan, the summit has an economic agenda, particularly focusing on the opening of regional communications, the implementation of international cargo transportation, including from Armenia to Russia and Iran. The issues of the exchange of prisoners of war and the bodies of the dead, search and rescue operations of the missing will also be discussed.