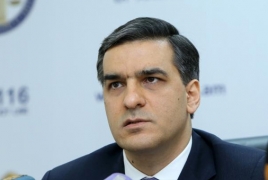 January 14, 2021 - 12:34 AMT
PanARMENIAN.Net - The Human Rights Defender of Armenia has published an Ad Hoc report on the treatment of Armenian prisoners of war and captives (servicemen and civilians) in Azerbaijan.
The report places particular emphasis on their interrogation in Azerbaijan, concluding that the information provided by the Armenian captives cannot serve as a basis for criminal prosecution against them, nor could it have any probative value in international organizations and venues.
In particular, the special report presents the atrocities of the Azerbaijani armed forces, which among other things, were accompanied by torture, indignation and humiliation of the Armenians.
"These facts are based on the evidence and analysis provided in the report, which once again confirms the use of methods prohibited by the Azerbaijani armed forces against the Armenian prisoners in accordance with strict international standards. The report's assessments are also based on the ombudsman's own fact-finding work," Ombusdman Arman tatoyan said Wednesday, January 13.
"In addition, international requirements for the treatment of prisoners of war, civilians, their interrogation, legal standards, objective evidence and other materials were examined."
The ombudsman said he will send the special report to international organizations, including to the European Court of Human Rights.
Dozens of videos of Azeri troops cutting the throats and ears of Armenians have been spreading online since the final days of the war in Nagorno-Karabakh. The Azerbaijanis subject the Armenian POWs and captives to physical abuse and humiliation. The videos depict Azerbaijani captors variously slapping, kicking, and prodding Armenian POWs, and compelling them, under obvious duress and with the apparent intent to humiliate, to kiss the Azerbaijani flag. In most of the videos, the captors' faces are visible, suggesting that they did not fear being held accountable.
https://www.ombuds.am/images/files/1138b156720bec6ae0fd88dc709eb62c.pdf?fbclid=IwAR3b5MQmvuAdk1ucWdMfE4srR6YDIx-klzOQYEeQeSB_3gvEt0_7yJCPAkA report առաջին պարբերության մեջ