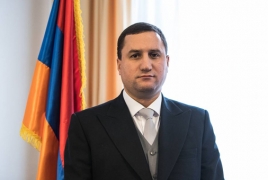 January 30, 2021 - 12:06 AMT
PanARMENIAN.Net - Article 8 of a trilateral agreement that ended the war in Nagorno-Karabakh obliges Armenia and Azerbaijan to exchange prisoners of war and other detainees, as well as the bodies and remains of the dead. Azerbaijan has received all its prisoners of war, as confirmed by both the parties to the conflict and Russia. However, more than 140 names are still on the Armenian exchange list, RBC cites a Russian diplomatic source and an informed person from the Armenian side as saying.
The Armenian Foreign Ministry, meanwhile, has failed to provide the exact number of POWs.
Azerbaijan insists that all those persons are not subject to exchange, since some of them were captured after the end of hostilities, while others are accused under three articles: "Mercenary Activity", "Terrorism" and "War Crimes". The ministry also reported that 60 people have already been transferred to Yerevan, in accordance with the agreements. Despite the statement, five prisoners of war returned to Armenia from Azerbaijan on January 28.
Earlier, Armenian Ambassador to the Netherlands Tigran Balayan said in an interview with the Dutch weekly Weekblad Elsevier, that more than 120 Armenian prisoners of war are still in Azerbaijan.