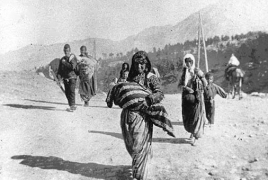 January 30, 2021 - 15:02 AMT
PanARMENIAN.Net - The Turkish government has launched a genocide remembrance website, without mentioning the Armenian Genocide.
On April 24, 1915, a group of several hundred Armenian intellectuals were rounded up and assassinated in Constantinople by the Ottoman government. Every year on April 24, Armenians worldwide commemorate the anniversary of the Genocide, which continued until 1923. Some three dozen countries, hundreds of local government bodies and international organizations have so far recognized the killings of 1.5 million Armenians as Genocide. Turkey denies to this day.
The new website, meanwhile, offers information about the Holocaust, the Cambodian genocide, the Rwandan genocide and Srebrenica, as well as about the origin of the term "genocide" and the UN Convention, but nothing about the Armenian Genocide, which served as a basis for an extensive body of scientific research into the matter.