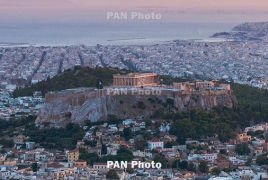 February 13, 2021 - 11:03 AMT
PanARMENIAN.Net - Turkey has slammed a forum hosted by Greece in Athens along with six other nations, declaring it an attempt to form a "hostile" alliance against Ankara, the Middle East Eye reports.
Greece said the initiative, formally called the Philia (Friendship) Forum, was an attempt to build a bridge between the Eastern Mediterranean and the Gulf, with the Balkans and the rest of Europe.
"In order to achieve their goals, these forces carry out a number of illegal and irrational actions, such as the Turkish-Libyan memorandum," Greek Foreign Minister Nikos Dendias said regarding Turkey's maritime deal with Tripoli which projected a wider exclusive economic zone for Ankara.
"They threaten or use force, occupy other countries' territories, support extremist groups or extremist ideologies, support terrorism, interfere in the internal affairs of other states, with the ultimate goal of overthrowing unfriendly governments," Dendias added.
The Turkish Foreign Ministry named Dendias, accusing him of "slandering" Turkey at the meeting, which took place in Athens with the participation of Egypt, France, Saudi Arabia, the UAE, Bahrain and Cyprus.
"The baseless accusations and slander against Turkey voiced by the foreign minister of Greece during the press conference held at the conclusion of this forum, which is allegedly "not pitted against anyone", demonstrates that this initiative is in fact an attempt to form an alliance built upon hostility towards Turkey, rather than "friendship" as stated," the ministry statement said.
Tensions between Turkey and Greece started to rise after a brief calm following Turkey's decision to suspend its drilling activities in the Eastern Mediterranean last year.