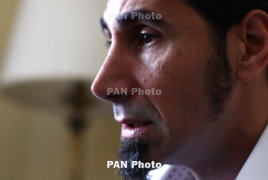 February 20, 2021 - 15:48 AMT
PanARMENIAN.Net - The new documentary about System of a Down frontman Serj Tankian, "Truth to Power", premiered on Friday, February 19.
System of a Down is a renowned, Grammy-winning hard rock band, but the new Garin Hovannisian-directed documentary "Truth To Power" at Oscilloscope Laboratories shows a different side of them — specifically putting the spotlight on the band's frontman.
Opening in virtual theaters on Friday, February 19, "Truth to Power brings audiences into the world of Tankian.
The film features exclusive interviews with Tankian and the singer's own footage. It also shows how Tankian writes music. It features interviews with his System of a Down bandmates, producer Rick Rubin, and Rage Against the Machine guitarist Tom Morello. It also features a score by Tankian.
The film also focuses on his efforts during the peaceful revolution in Armenia in spring 2018 and his decades-long fight for the recognition of the Armenian Genocide by the United States.
Tankian recently joined his System of a Down bandmates in the studio to record their first new music in 15 years. The two new songs, "Protect the Land" and "Genocidal Humanoidz," were recorded to help raise awareness about the crisis in Nagorno-Karabakh, which was attacked by Azerbaijan.