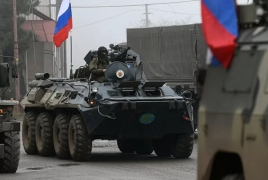 February 22, 2021 - 17:20 AMT
PanARMENIAN.Net - Yerevan expects that long-term peace will be established in Nagorno-Karabakh thanks to cooperation with Russia, Armenian Defense Minister Vagharshak Harutyunyan said in an interview with RIA Novosti.
According to him, Armenia believes that "the security of the population of Artsakh should first of all be ensured by the Defense Army (Karabakh)."
"Of course, a lot remains to be done in terms of restoring its (the army's - Ed.) combat readiness and modernization, but whatever the case, it must be done. Second, Armenia remains the guarantor of the security of the people of Artsakh, and we will never relinquish this historic mission," the Defense Minister said.
"And third, and most importantly, the Russian military presence in the region made it possible to achieve a ceasefire in the first place, and prevent a humanitarian catastrophe afterwards. I think that thanks to joint efforts with the Russian Federation, long-term peace in the region will be established," Harutyunyan added.
Harutyunyan said in the same interview that Armenia is reforming the army after the recent hostilities in Nagorno-Karabakh, optimizing the size of the army, and switching to new systems of weapons and military equipment.