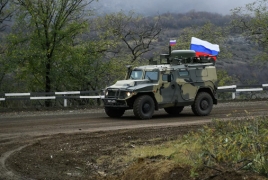 February 26, 2021 - 19:59 AMT
PanARMENIAN.Net - Azerbaijani President Ilham Aliyev expects that Russian peacekeepers deployed in Nagorno-Karabakh will be leaving the region in five years.
Under a trilateral statement signaling the end of hostilities in Karabakh, the peacekeeping troops are set to stay there for a period of at least 5 years, with automatic extension for additional 5-year periods, if none of the sides declares its intention to terminate the provision 6 months prior to the expiration of the five-year term.
Addressing reporters on Friday, February 26, Aliyev reminded about the five-year term and said: "If everything goes well, they (the peacekeepers - Ed.) will leave."
Armenian Prime Minister Nikol Pashinyan, Russian and Azerbaijani Presidents Vladimir Putin and Ilham Aliyev on November 9 signed a statement to end the war in Karabakh after almost 45 days. Under the deal, the Armenian side has returned all the seven regions surrounding Nagorno-Karabakh, having lost a part of Karabakh itself in hostilities.