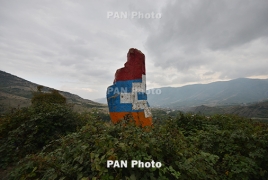 February 27, 2021 - 15:47 AMT
PanARMENIAN.Net - The Chief of Nagorno-Karabakh (Artsakh) Presidential Staff, former Ombudsman Artak Beglaryan has said Artsakh cannot be a part of Azerbaijan.
Beglaryan's comments came in response to Azeri President Ilham Aliyev's statements about the war, the status of Karabakh, the prisoners of war and the mercenaries hired by Baku and Turkey to fight against Armenians.
"Artsakh/Karabakh Republic cannot be a part of Azerbaijan, there cannot be any integration, and our people cannot live in our own land as 'Azerbaijani citizens'. Our realized right to self-determination should be recognized fully and internationally," Beglaryan wrote in a Twitter thread.
According to the official, Aliyev lies when he says Baku has returned all the prisoners of war, as there is undeniable evidence that Azerbaijan is keeping not only post-war captives, but also wartime civilians (including women and elderly) and many PoWs.
Beglaryan said that 62 persons captured after the completion of hostilities hadn't been engaged in battles at all, and that Azerbaijan has killed some captives after torturing them in prisons.
He also weighed in on Aliyev's claims that there is no evidence supporting the involvement of mercenaries by Azerbaijan: "What about the mercenaries [captured by the Armenian side], their witnesses, the high-level statements by Russia, France, the U.S., Iran and others? Seems like he says to the world: "We did it but you couldn't prove it…"
Beglaryan further noted that Azerbaijan cannot have any role in procedures of granting foreigners permission to visit Artsakh. "It's our exclusive right/function technically implemented together with the Russian peacekeepers for security reasons. No interference is acceptable," he said.
"The level of Armenophobia and hatred in Aliyev's speech isn't a sign of peaceful sentiments. Xenophobia against Armenians has a deep, widespread and aggressive manifestation in the Azerbaijani society, encouraged by the authorities and the President himself," Beglaryan added.