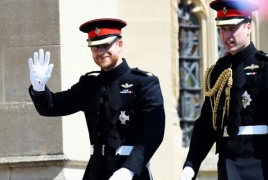 March 12, 2021 - 12:24 AMT
PanARMENIAN.Net - The Duke of Cambridge has defended the monarchy against accusations of racism made by the Duke and Duchess of Sussex, saying: "We're very much not a racist family."
Prince William said he had not yet spoken to his brother since Harry and Meghan launched their attack on the family and institution in an interview with Oprah Winfrey broadcast in the U.S. on Sunday, The Guardian reports.
William's statement is the first public personal comment by any member of the royal family since the allegations, and gives an insight into the hurt that members of the family are understood to feel over the matter. The Queen's aides issued a very brief official statement on her behalf.
William and the Duchess of Cambridge toured School 21 in Stratford, east London, on Thursday, March 11 to mark the return of children to classes this week and the rollout to secondary schools of a mental health project that Kate launched in primary schools in 2018.
As William left, a reporter asked him: "Is the royal family a racist family, sir?"
The duke, with the duchess by his side, replied: "We're very much not a racist family."
Of Harry, he said: "I haven't spoken to him yet, but I will do."
Meghan told Winfrey that when she was pregnant there were "concerns and conversations" about how dark their son Archie's skin might be. The couple attributed the comments to an unnamed member of the royal family, said not to be the Queen or Philip. Harry said he felt "awkward" and "shocked". Meghan also suggested that Archie had been denied his birthright of the title of prince because he was mixed race. She described feeling suicidal and said she was denied help for her mental health when she sought it.