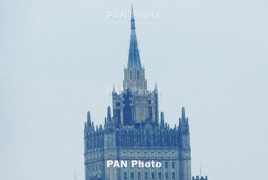 March 12, 2021 - 19:16 AMT
PanARMENIAN.Net - The Russian Foreign Ministry has commented on acts of vandalism of the Azerbaijani military against monuments to the heroes and participants of the Great Patriotic War in the occupied territories of Nagorno-Karabakh, describing such behavior as "unacceptable, immoral."
The official representative of the Russian Foreign Ministry, Maria Zakharova, made the remarks on Friday, March 12, when asked about Azerbaijan's vandalism in Karabakh.
"We believe any form of desecration of the memory of those who heroically fought against Nazism during the Second World War is absolutely unacceptable, immoral. The information is being verified, and if it is confirmed, we expect that the Azerbaijani authorities will take all appropriate measures to rectify the situation," Zakharova said.
"I would like to remind that Russia, Armenia and Azerbaijan agree that the victory over Nazism was achieved at the cost of incredible efforts of all the peoples of the USSR, and that our duty is to preserve that memory for the sake of, in the name of future generations. The President of Azerbaijan, the Prime Minister of Armenia, and the President of the Russian Federation have spoken about this more than once."
Azerbaijanis destroyed a monument to the heroes of the Great Patriotic War in the village of Karin Tak near Shushi, which came under Baku's control after the 44-day war in Nagorno-Karabakh.