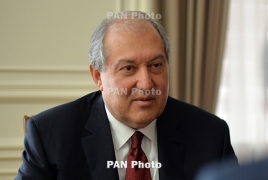 March 31, 2021 - 10:50 AMT
PanARMENIAN.Net - Very painful issues need to be resolved in order to speak about the normalization of relations between Armenia and Azerbaijan, President Armen Sarkissian said in an interview with RBC.
"All this is too painful for Armenia, as painful as it was for Azerbaijan at some point. But before talking about the normalization of relations or any projects, there are very painful issues that need to be resolved," the President said.
"There are Armenian prisoners of war in Azerbaijan, there are no Azerbaijani prisoners of war in Armenia and Artsakh (Nagorno-Karabakh). And those are families, people."
Sarkissian added that the retention of prisoners of war is also unacceptable from the point of view of international law. According to the President, before talking about anything, Azerbaijan should return all prisoners of war, showing a certain humanitarian and human attitude.
The President noted that there is also the issue of the missing, of which there are many. And their relatives, he said, "live between hell and heaven every day."
"The answers to many questions are on the other side of this border. Azerbaijan can help these families by providing information or the bodies," Sarkissian added.
Armenian Prime Minister Nikol Pashinyan, Russian and Azerbaijani Presidents Vladimir Putin and Ilham Aliyev on November 9 signed a statement to end the war in Karabakh after almost 45 days. Under the deal, the Armenian side has returned all the seven regions surrounding Nagorno-Karabakh, having lost a part of Karabakh itself in hostilities.