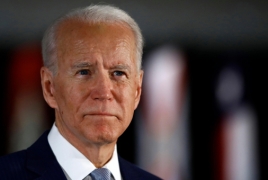 April 8, 2021 - 12:04 AMT
PanARMENIAN.Net - Statements coming from White House officials and President Joe Biden's own history of supporting genocide recognition makes it likely that on April 24, Armenian Genocide Remembrance Day, he will officially use the term "genocide" to describe the fate of the Ottoman Armenian community, Ahval says in a fresh article.
Turkey has spent millions of dollars on somewhat bizarre campaigns to dissuade the American government from calling the murder and expulsion of the vast majority of the Armenians during World War One a genocide, author Claire Sadar writes.
"Ultimately, all this money and effort appears to have been a waste. At the end of 2019, the United States Congress and Senate passed a resolution to officially "(1) commemorate the Armenian Genocide, the killing of 1.5 million Armenians by the Ottoman Empire from 1915 to 1923; (2) reject efforts to associate the U.S. government with efforts to deny the existence of the Armenian Genocide or any genocide; and (3) encourage education and public understanding about the Armenian Genocide," the article reads.
"Biden's decision to break the trend of equivocation by his predecessors makes sense given his long history supporting resolutions like the one passed by Congress a year and a half ago. As a senator, Biden supported similar resolutions as far back as 1984. He was a co-sponsor of the 1990 resolution that spurred contentious debate between those opposed, led by Senator Robert Byrd, and those in favour, led by Senator Bob Dole. Despite, or perhaps because of, his continued support for these ultimately failing resolutions, Biden has not wavered in his conviction that the U.S. government should recognise the Armenian Genocide."
"Previously when the Armenian Genocide bill would be up for discussion on the Hill there would be a flurry of various groups, from foreign policy analysts who defended Turkey for real-politik reasons to pro-Israel groups who saw Turkey as an ally to defense contractors who didn't want to lose crucial arms sales," said Daphe McCurdy, Senior Associate at the Center for Strategic and International Studies.
"That doesn't really exist anymore or to the extent it does, these pro-Turkey groups don't have a sympathetic ear among any U.S. policymakers whether on the Hill or in the administration," McCurdy said.
Nicholas Danforth, a non-resident fellow at the Hellenic Foundation for European and Foreign Policy, concurs:
"Turkey has no friends left in Washington, and it is increasingly hard to make a geopolitical case that Turkey is an important enough ally, that not angering Turkey is important enough, to block the resolution," Danforth said.
There will undoubtedly be segments of the Turkish population who are angry and offended by it if the president makes an official declaration using the term "genocide", but Taner Akçam, a professor of history at Clark University, and one of the preeminent historians on the Armenian Genocide, cautioned that all news about how "average Turks" feel should be taken with a huge grain of salt.
"[The Turkish government] will put their position in the mouths of so-called 'ordinary Turks'," Akçam said. "Whatever we will see and we will hear about Turkish public reaction, will not be Turkish public reaction. If they allowed the free press in Turkey, public reaction would be totally different."