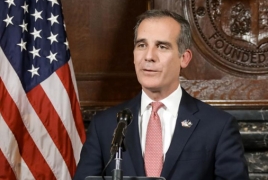 April 10, 2021 - 14:55 AMT
PanARMENIAN.Net - Los Angeles Mayor Eric Garcetti has called on U.S. President Joe Biden to recognize the Armenian Genocide.
"It's time to remember the truth. It's time to remember the tragedies of history so that we do not repeat them," Garcetti said in a video message published by Asbarez.
"It is time for all of us, for my friend President Biden, the leaders across LA and throughout the United States and around the world to declare in one voice: "We recognize the Armenian Genocide." We mourn 1.5 million Armenians murdered in a campaign of systemic murder."
Garcetti said Americans always stand for the Armenian people's pursuit of justice, safety and peace: "We must remember the reality of our past in order to forge a better future."
On April 24, 1915, a group of several hundred Armenian intellectuals were rounded up and assassinated in Constantinople by the Ottoman government. Every year on April 24, Armenians worldwide commemorate the anniversary of the Genocide, which continued until 1923. Some three dozen countries, hundreds of local government bodies and international organizations have so far recognized the killings of 1.5 million Armenians as Genocide. Turkey denies to this day.