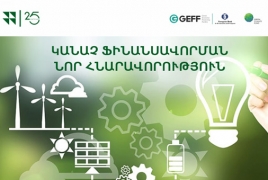 April 14, 2021 - 17:22 AMT
PanARMENIAN.Net - Inecobank is the first partner financial institution in the second phase of the Green Economy Financing Facility (GEFF) in Armenia, the bank said on Wednesday, April 14.
"The second phase of the Green Economy Financing Facility (GEFF) is launched in Armenia by EBRD, and we are honored to continue our fruitful collaboration and once again confirm our commitment to the promotion of green financing in Armenia", announced the CEO of Inecobank Aren Naltakyan.
During the second phase, Inecobank received $6 million funds for financing green investment projects through its 26 branches.
Inecobank has already disbursed funds worth some $2.5 million during the first phase of the Program starting January 2019, contributing to 4.9 GWh/year clean energy production and GHG reduction by 3,125 tonnes/year.
With GEFF funding, the customers of Inecobank have access to more than 1,800 high-performance technologies from 164 local vendors through Green Technologies Selector (online list of applicable high-performance technologies available here). These technologies have a savings ratio of at least 20% higher than the market average.
Within the project framework, the companies investing in renewable energy to cover their own company needs can also receive investment reward of up to 20% of the loan amount installation from the Climate Investment Fund (CIF). Additionally, the investment projects requiring a comprehensive approach to disclosing savings potential may receive comprehensive professional advice funded by the Green Climate Fund (GCF) and delivered free of charge to all the business clients investing through GEFF Programme. New technologies for financing during the second phase are climate adaptation (CA) high-performance technologies. Through CA financing in Armenia GEFF supports the promotion of mainly water efficiency, sustainable land management against soil degradation technologies, thus protecting the scarce natural resources and delivering better business results in the long term.
In line with active financing of renewable energy, energy efficiency and climate adaptation investment projects throughout Yerevan and the regions, Inecobank will have many other initiatives during the year to promote the green approaches among its employees, customers and neighborhoods of branches, thus making the year "Greener inside, greener outside".