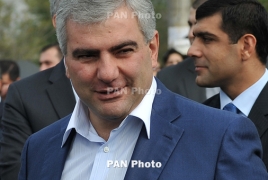 April 22, 2021 - 16:25 AMT
PanARMENIAN.Net - Nine businessmen of Armenian origin have been included in the Forbes new ranking of 200 richest businessmen in Russia.
Sergei Galitsky (Harutyunyan), the founder and co-owner (until 2018) of the country's largest retail chain Magnit, is ranked the 40th with a fortune of $3.5 billion. Galitsky is followed by the 55-year-old president and founder of the Tashir Group of Companies Samvel Karapetyan, who took the 46th spot with an estimated fortune of $3.3 billion.
The co-founder of a Russian dollar store called Fix Price, Artem Khachatryan, has made it to the Forbes' list for the first time, with the $3.1 billion he owns.
Andrei Andreev (Ogandzhanyants) – the founder of the online dating service Badoo – possesses $1.9 billion, founder and owner of Scartel, as well as Yota shareholder Albert Avdolyan has $ 1billion, as does entrepreneur, venture philanthropist, and investor, co-founder of Aurora Prize for Awakening Humanity Ruben Vardanyan. They are followed by brothers Nikolai and Sergei Sarkisov – owners and chairmen of the board of directors of RESO-Garantia – with $850 million each, and David Yang, founder and member of the board of directors of ABBYY Group of Companies, co-founder of iiko, Findo and Ayb fund, with $700 million.
The 200 richest Russian businessmen boast a combined wealth of $663 billion, up by $207 billion in the past year.