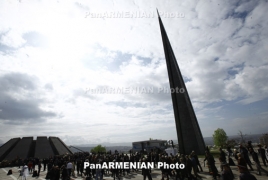 April 22, 2021 - 18:36 AMT
PanARMENIAN.Net - Turkey has claimed that the United States recognizing the Armenian Genocide could impede possible reconciliation efforts with Armenia, the Middle East Eye reports.
Several U.S. newspapers, including The New York Times, Wall Street Journal and The Associated Press, reported earlier on Thursday, April 22 that U.S. President Joe Biden would reveal the symbolic designation on April 24, the 106th anniversary of the beginning of the killings, becoming the first American president to do so.
Turkish officials maintained that the U.S. move would be counterproductive and diminish ties already damaged by a set of disagreements, including Ankara's purchase of Russian S-400 missile systems.
One senior Turkish official said that after the end of hostilities in Nagorno-Karabakh in fall 2020, there was a real chance of a reconciliation between Turkey and Armenia in the coming months.
"We would like to normalize ties with Armenia. If we see a positive momentum, we could open the borders," the senior Turkish official told Middle East Eye. "If Americans call the 1915 events as genocide in such circumstances, this could sabotage the entire process in the Caucasus."
The official said Erdogan's chief foreign policy adviser transmitted the same message to US National Security Adviser Jake Sullivan in March.
Warnings from Turkey arrive every time a foreign country or President is about to recognize the Armenian Genocide. The Turkish Foreign Ministry also normally summons the ambassador of said country to protest the move.
On April 24, 1915, a large group of Armenian intellectuals was rounded up and assassinated in Constantinople by the Ottoman government. On April 24, Armenians worldwide will be commemorating the 106th anniversary of the Genocide which continued until 1923. Some three dozen countries, hundreds of local government bodies and international organizations have so far recognized the killings of 1.5 million Armenians as Genocide. Turkey denies to this day.