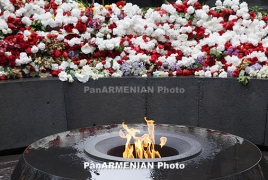 April 23, 2021 - 13:32 AMT
PanARMENIAN.Net - Stéphane Dujarric, Spokesman for the United Nations Secretary-General, has said that the question of whether a genocide has been perpetrated needs to be determined by an appropriate judicial body.
Dujarric's comments came in response to a question about the UN Secretary-General's position about the Armenian Genocide.
"This is a question that has come up a number of times over the last few years or more that I've been here under different administrations," the spokesperson said.
"We have no comment, as a general rule, on events that took place before the founding of the UN, and genocide as… and as we've said this in different occasions for different circumstances, genocide needs to be determined by an appropriate judicial body, as far as the UN is concerned."
Major American media agencies have been reporting that U.S. President Joe Biden is poised to recognize the Genocide on April 24, the Remembrance Day.
On April 24, 1915, a large group of Armenian intellectuals was rounded up and assassinated in Constantinople by the Ottoman government. On April 24, Armenians worldwide will be commemorating the 106th anniversary of the Genocide which continued until 1923. Some three dozen countries, hundreds of local government bodies and international organizations have so far recognized the killings of 1.5 million Armenians as Genocide. Turkey denies to this day.