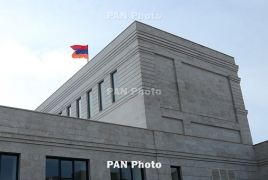 April 24, 2021 - 13:46 AMT
PanARMENIAN.Net - The impunity of the Armenian Genocide inspire new crimes today, the Foreign Ministry said in a statement on the 106th anniversary of the mass killings at the hands of the Ottoman Empire.
"The recent war unleashed by Azerbaijan against the people of Artsakh (Nagorno-Karabakh) and the genocidal actions of the Turkish-Azerbaijani alliance during that war demonstrated that their approaches towards "solving" international issues by force have not changed," the statement said.
"The crimes committed against the Armenians of Artsakh proved that the recognition of the Armenian Genocide is imperative not only for historical justice and truth, but also for the security of the Armenian people.
"The aim of the Armenian Genocide was the complete annihilation of the Armenian people. Thanks to the collective efforts of the Armenian people, as well as the support provided to the survivors of the genocide by different countries and peoples, the Armenian people survived the greatest calamity of its history with dignity.
"This struggle will continue until the Turkish government finds the strength to recognize the Armenian Genocide and undertake steps towards eliminating its consequences."
On April 24, 1915, a large group of Armenian intellectuals was rounded up and assassinated in Constantinople by the Ottoman government. Today, on April 24, Armenians worldwide are commemorating the 106th anniversary of the Genocide which continued until 1923. Some three dozen countries, hundreds of local government bodies and international organizations have so far recognized the killings of 1.5 million Armenians as Genocide. Turkey denies to this day.