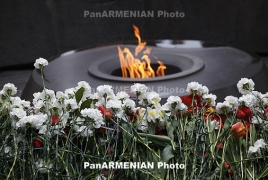 April 24, 2021 - 15:09 AMT
PanARMENIAN.Net - Premier of New South Wales Gladys Berejiklian has urged Australia to recognize the Armenian Genocide.
"On April 24 each year, we remember the 1.5 million innocent lives lost in the Armenian Genocide perpetrated by the Ottoman Empire. We also remember the acts of genocide committed against the Greek and Assyrian communities in the region," Berejiklian said on Saturday, April 24
"I am forever hopeful that Australia will join the many nations around the world who have recognized the Armenian Genocide of 1915."
On April 24, 1915, a large group of Armenian intellectuals was rounded up and assassinated in Constantinople by the Ottoman government. Today, on April 24, Armenians worldwide are commemorating the 106th anniversary of the Genocide which continued until 1923. Some three dozen countries, hundreds of local government bodies and international organizations have so far recognized the killings of 1.5 million Armenians as Genocide. Turkey denies to this day.