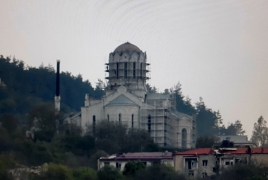 May 4, 2021 - 11:38 AMT
PanARMENIAN.Net - Azerbaijan has removed the domes of the iconic Ghazanchetsots Cathedral in the Nagorno-Karabakh city of Shushi, which came under the control of Baku during the war in fall 2020, pictures posted online reveal.
In the course of the military hostilities, Azerbaijani forces launched two targeted attacks on the church, causing considerable damage to one of the most important cultural heritage sites in Karabakh. However, that's apparently not enough.
Photos published on social media platforms first revealed that Azerbaijan has removed the angels and other integrals parts of the complex in Shushi, while recent images show scaffolding around the building and prove that the domes are gone too.
Artsakh Human Rights Defender Gegham Stepanyan said on Monday that the Azerbaijanis are destroying the site under the guise of "restoration". He added, however, that Azerbaijan cannot restore the cultural heritage of a nation, against which it has been spreading systemic hatred at the state level for years.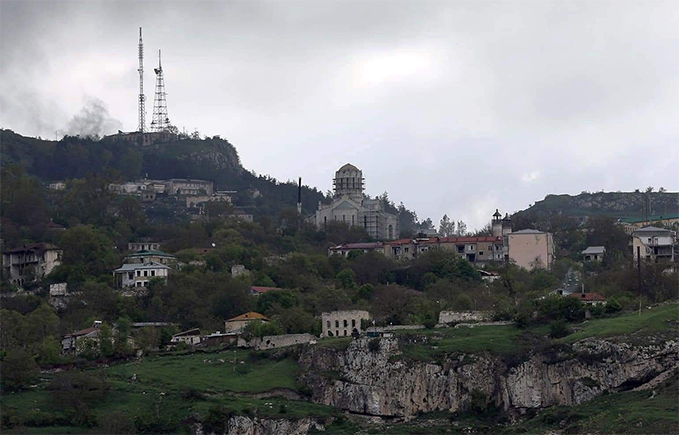 "If Azerbaijan really cares about the preservation of cultural values, "repairs" it, then why has իտ not allowed an independent UNESCO expert group to visit the region," Stepanyan noted.
"We raise the issue of vandalism against Armenian culture by Azerbaijan on a daily basis informing the relevant international organizations about what is happening. However, the issue does not go beyond criticism or calls, while clear steps are needed.
Concerns about the preservation of cultural sites in Nagorno-Karabakh are made all the more urgent by the Azerbaijani government's history of systemically destroying indigenous Armenian heritage—acts of both warfare and historical revisionism. The Azerbaijani government has secretly destroyed a striking number of cultural and religious artifacts in the late 20th century. Within Nakhichevan alone, a historically Armenian enclave in Azerbaijan, Azerbaijani forces destroyed at least 89 medieval churches, 5,840 khachkars (Armenian cross stones) and 22,000 historical tombstones between 1997 and 2006.