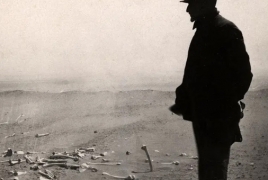 May 4, 2021 - 15:32 AMT
PanARMENIAN.Net - Decades before the U.S. president formally recognized the Armenian Genocide, Israel's Foreign Ministry sought to foil an academic conference on the subject, fearing reprisal from Turkey, Israeli journalist Ofer Aderet wrote in an article, published by Haaretz.
In a statement published on the April 24, Biden made good on a campaign promise and became the first American President to use the term "Genocide" on the April 24 Remembrance Day to describe the massacre of 1.5 million Armenians in the Ottoman Empire between 1915 and 1923.
A recently released file from the National Archives reveals Israeli efforts during that summer four decades ago to thwart an academic conference due to be held in the country, focusing both on the Holocaust and the Armenian Genocide. The documents in question offer a lesson in realpolitik and the willingness to sacrifice fundamental values of the type that any democratic society – especially one established after the calamity of the Holocaust – is supposed to hold dear, on the alter of political and security-related interests, among other reasons.
Beginning in April 1982, from the day the conference was first announced, the Foreign Ministry's efforts to sabotage it never ceased. These efforts, which went on for two months, bore fruit.
The Yad Vashem Holocaust Remembrance Center in Jerusalem withdrew its initial sponsorship of the event, Tel Aviv University declined to take part, the Henrietta Szold Institute pledged not to provide funding for it, Holocaust survivor and then-future Nobel Peace Prize laureate Elie Wiesel resigned his post as conference chairman, and a number of prominent historians, including Prof. Yehuda Bauer, said they would not to attend. The conference did ultimately take place, but in a much watered-down and unofficial framework.
"We continue to act to reduce and diminish the Armenian issue to the extent of our ability by every possible means. We continue to spare no effort on this issue, which is currently a central one on our agenda," an internal ministry document says of the mission.
"We shall leave no stone unturned, whether or not this thing succeeds," another document says. "Intensive treatment that encompasses both institutions and public figures in Israel and abroad… feverish and tireless efforts… at the highest diplomatic levels," other documents add.