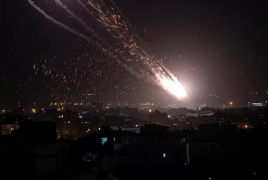 May 12, 2021 - 16:38 AMT
PanARMENIAN.Net - No Armenians were injured in Jerusalem amid the the new round of Israeli-Palestinan fighting, set off by tensions over the holy city, Armenian Foreign Ministry spokesperson Anna Naghdalyan said on Wednesday, May 12, Sputnik-Armenia reports.
"The Armenian Foreign Ministry and the Armenian Embassy in Israel are constantly in touch with the Jerusalem Patriarchate of the Armenian Apostolic Church, as well as with the Armenian structures in this state," Naghdalyan was quoted as saying.
According to her, the Armenians of Israel are living their everyday life.
Archimandrite Koryun Baghdasarian from the press service of the Armenian Patriarchate of Jerusalem said, meanwhile, that the Armenian community has not suffered in the recent unrest.
Two days of Israeli strikes on Gaza, which is controlled by the militant group Hamas, have killed at least 35 Palestinians and wounded more than 200 in Gaza since Monday, according to Palestinian health officials.
Rockets fired by militants from Hamas and the Islamic Jihad, a smaller Palestinian group, targeted the Israeli cities of Ashkelon, Tel Aviv and Lod, among others. At least six people were killed and at least 100 were injured, according to Israeli health officials. One Israeli was killed was on Wednesday morning by an anti-tank missile near the Gaza perimeter.