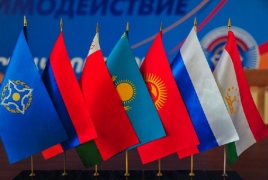 May 13, 2021 - 19:37 AMT
PanARMENIAN.Net - Armenia is asking for help from the Collective Security Treaty Organization, of which it is a member, amid continued encroachment on its soil by Azerbaijan in recent days, acting Prime Minister Nikol Pashinyan told a Security Council meeting on Thursday, May 13.
Pashinyan described the situation as "explosive" and maintained that it is fully consistent with the second paragraph of Article 2 of the Collective Security Treaty, which says: "In case of menace to safety, stability, territorial integrity and sovereignty of one or several Member States or menace to international peace and safety of the Member States shall immediately launch the mechanism of joint consultations for the purpose of their positions coordination, develop and take measures for assistance to such Member States for the purpose of elimination of the arisen menace."
On the morning of May 12, the armed forces of Azerbaijan violated the border of Armenia in the southern province of Syunik, advancing 3.5 kilometers and surrounding Sev Lake, which is situated on the border between the two countries but is predominantly a part of Armenia.
On May 13, the Azerbaijani military committed more border violations against Armenia, trying to advance near Vardenis (Gegharkunik province) and Sisian (Syunik province).
According to Pashinyan, a total of 250 Azerbaijani troops are currently on Armenian soil, in the provinces of Syunik and Gegharkunik.
While no single bullet has been fired since the escalation on May 12, he said, Azerbaijan could nonetheless be pursuing the goal of provoking hostilities.