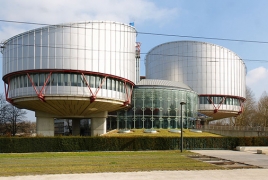 June 4, 2021 - 18:12 AMT
PanARMENIAN.Net - The European Court of Human Rights has not accepted Azerbaijan's latest application as a separate case, Armenia's Representative before the ECHR reports.
On 3 June, the Armenian government was notified that on June 1 and 2 Azerbaijan submitted a new application form and an interim-measure request with the European Court of Human Rights, requesting the Armenian Government to provide the maps of locations of alleged landmines, the representative said in a statement on June 4.
"The European Court has found that the said application should be treated as part of the Inter-state application submitted by Azerbaijan in January 2021 and has attached it to it. Thus, the European Court has not accepted this application as a new and separate case," the statement reads.
"In May 2021 the Armenian Government submitted an addition to their Inter-State application lodged with the European Court on 1 February 2021 providing the Court with additional evidence and making additional claims. As to the interim-measure request submitted by Azerbaijan, the European Court has informed the Azerbaijani Government that back on 5 March 2021 the Court had already adopted a decision on the same matter rejecting the Azerbaijani request for being out of scope of Rule 39 of the Rules of Court. The European Court noted that its decision of 5 March 2021 still stands and there is no necessity to reconsider it."