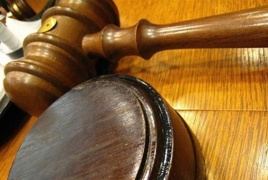 June 16, 2021 - 15:05 AMT
PanARMENIAN.Net - A trial is underway in the Baku Military Court against two Armenian prisoners of war Lyudvik Mkrtchyan and Alyosha Khosrovyan, who were captured during or after the 44-day war unleashed by Azerbaijan against Nagorno-Karabakh (Artsakh) in fall 2020.
The two Armenian PoWs are accused of allegedly "torturing Azerbaijani captives during the first Karabakh war" and committing other crimes, APA reports.
On June 16, "the victims are testifying" in court.
A court in Baku earlier handed a 20-year jail term to Viken Euljekjian, another Armenian captive, and a citizen of Lebanon, illegally detained in Azerbaijan. He was charged with "mercenary activity", "terrorism", "illegal border crossing." Euljekjian, however, did not plead guilty on Monday, June 14, revealing that he had testified under pressure.
Azerbaijan is refusing to return all Armenian prisoners of war, in violation of the statement on the cessation of hostilities signed by the parties in November 2020. The Armenian side has information about some 200 Armenians still in Azerbaijan's captivity, but Azeri President Ilham Aliyev claims that persons being kept in Baku are not PoWs, but "terrorists and saboteurs". At least 19 of the hundreds of Armenian captives have been tortured and killed, according to their lawyers. In addition, six Armenian troops were captured on Armenian soil in late May.