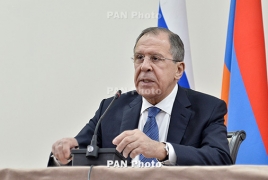 June 21, 2021 - 19:04 AMT
PanARMENIAN.Net - Russian Foreign Minister Sergei Lavrov on Monday, June 21 called for waiting for the formation of government in Armenia in order to understand how those processes can affect, among other things, the situation in Nagorno-Karabakh.
Caretaker Prime Minister Nikol Pashinyan's Civil Contract party won 53.92% of the vote, while Hayastan (Armenia) bloc headed by second President Robert Kocharyan secured 21.4% of the ballots. "I Have Honor" bloc too will get seats in the parliament.
"The elections have just taken place, it's still unclear how the results will affect the formation of political life in new conditions. Let's wait until the government is formed," Lavrov said in response to a question of how the snap elections could have influenced the situation in Karabakh and the region, RIA Novosti reports.
According to him, Moscow believes the trilateral agreements signed by Armenia, Russia and Azerbaijan, which ended the war and heralded the beginning of processes for coordinating economic interaction, are working.