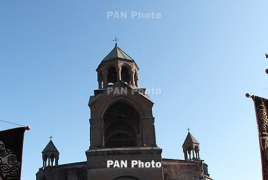 June 22, 2021 - 18:55 AMT
PanARMENIAN.Net - The Armenian Church on Tuesday, June 22 welcomed the proposal of the acting Prime Minister and leader of the Civil Contract party Nikol Pashinyan for a dialogue with the religious leaders of the country.
In a statement published on Tuesday, June 22, Mother See of Holy Etchmiadzin also gave a positive assessment of Pashinyan's proposal to stop disseminating hatred, to put an end to insults, as well as his call for solidarity, unity and nation-building.
The Church noted that they expect consistent measures from the authorities in terms of implementing the proposal for cooperation with the church, as well as creating an atmosphere of solidarity. The statement also hailed the fact that, despite a tense campaign, the authorities managed to avoid clashes after the elections.
"It is extremely important for the Armenian Apostolic Church for the political force taking over the leadership of the country to be able to provide solutions favorable to the nation on issues related to ensuring the security of Armenia, Artsakh and the Armenian people, protecting national identity and value system," the statement said.
The Armenian Church also pledged to continue efforts to ensure that the people regain firmness of spirit and self-confidence.