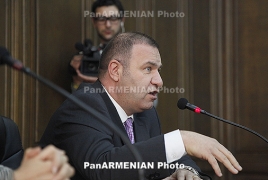 June 23, 2021 - 15:34 AMT
PanARMENIAN.Net - Lawmaker Mikayel Melkumyan has raised the issue of the Armenian prisoners of war illegally being held in Baku and Azerbaijan's recent incursion into Armenia, at a meeting of the Parliamentary Assembly of the Council of Europe (PACE).
Azerbaijani forces violated Armenia's border in several sections in the provinces of Syunik and Gegharkunik on May 12 and 13 and are still refusing to withdraw their troops from the area. One Armenian serviceman was killed in Azerbaijan's shooting on May 25, six troops were captured on May 27, although four of them have already returned home.
Melkumyan reminded that Azerbaijan and Turkey unleashed the 44-day war against the peaceful Armenian population of Artsakh (Nagorno-Karabakh) with the participation of mercenaries and the use of prohibited munitions in the midst of a global pandemic.
"What can be expected from Azerbaijan, which invades the sovereign territory of the Republic of Armenia? And how come these states remain unpunished?" he charged.
According to him, more than 7 months have passed since the November 10 statement on the cessation of hostilities, but over 200 Armenian PoWs are still being held in Azerbaijan.
"They have invaded the sovereign territory of a Council of Europe member state. What will you say or do? Europe, your decisions must be precise, prompt and focused. Your current procedures no longer match extreme situations, including the one on the Armenian-Azerbaijani border," the lawmaker said.
Azerbaijan is refusing to return all Armenian prisoners of war, in violation of the statement on the cessation of hostilities signed by the parties in November 2020. The Armenian side has information about some 200 Armenians still in Azerbaijan's captivity, but Azeri President Ilham Aliyev claims that persons being kept in Baku are not PoWs, but "terrorists and saboteurs". At least 19 of the hundreds of Armenian captives have been tortured and killed, according to their lawyers.