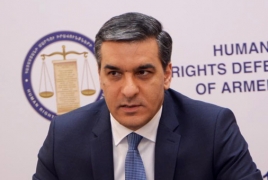 July 2, 2021 - 18:20 AMT
PanARMENIAN.Net - Human Rights Defender Arman Tatoyan has presented urgency of the immediate return of the Armenian captives from Azerbaijan to the the Council of Europe Commissioner for Human Rights Dunja Mijatović.
The two met on Thursday, July 6 in Strasbourg, where the Armenian Ombudsman unveiled that the Azerbaijani side is holding the captives with gross violations of international human law.
Tatoyan also weighed in on the violations of the rights of the border residents of Armenia by the Azerbaijani servicemen, and the results of the fact-finding activities in Syunik and Gegharkunik provinces.
During the meeting, the parties also discussed the human rights situation in penitentiary and psychiatric institutions, and other places of deprivation of liberty, as well as issues related to the protection of the rights of children, women and persons with disabilities.
Azerbaijani forces violated Armenia's border in several sections in the provinces of Syunik and Gegharkunik on May 12 and 13 and are still refusing to withdraw their troops from the area. One Armenian serviceman was killed in Azerbaijan's shooting on May 25, six troops were captured on May 27, although four of them have already returned home.